Nursery and Early Years Key Information
| | |
| --- | --- |
| Ages Taught | 2.5 to 4.5 years |
| Year Groups Taught | Nursery to Reception |
Early Years Staff
100% of our Early Years staff are trained in paediatric first aid.
View Staff details
The overall effectiveness of the Early Years Foundation Stage provision is outstanding. Children make excellent progress in their learning, achieve high standards of work and are very well prepared for Key Stage I.
(from ISI 2016 Inspection Report)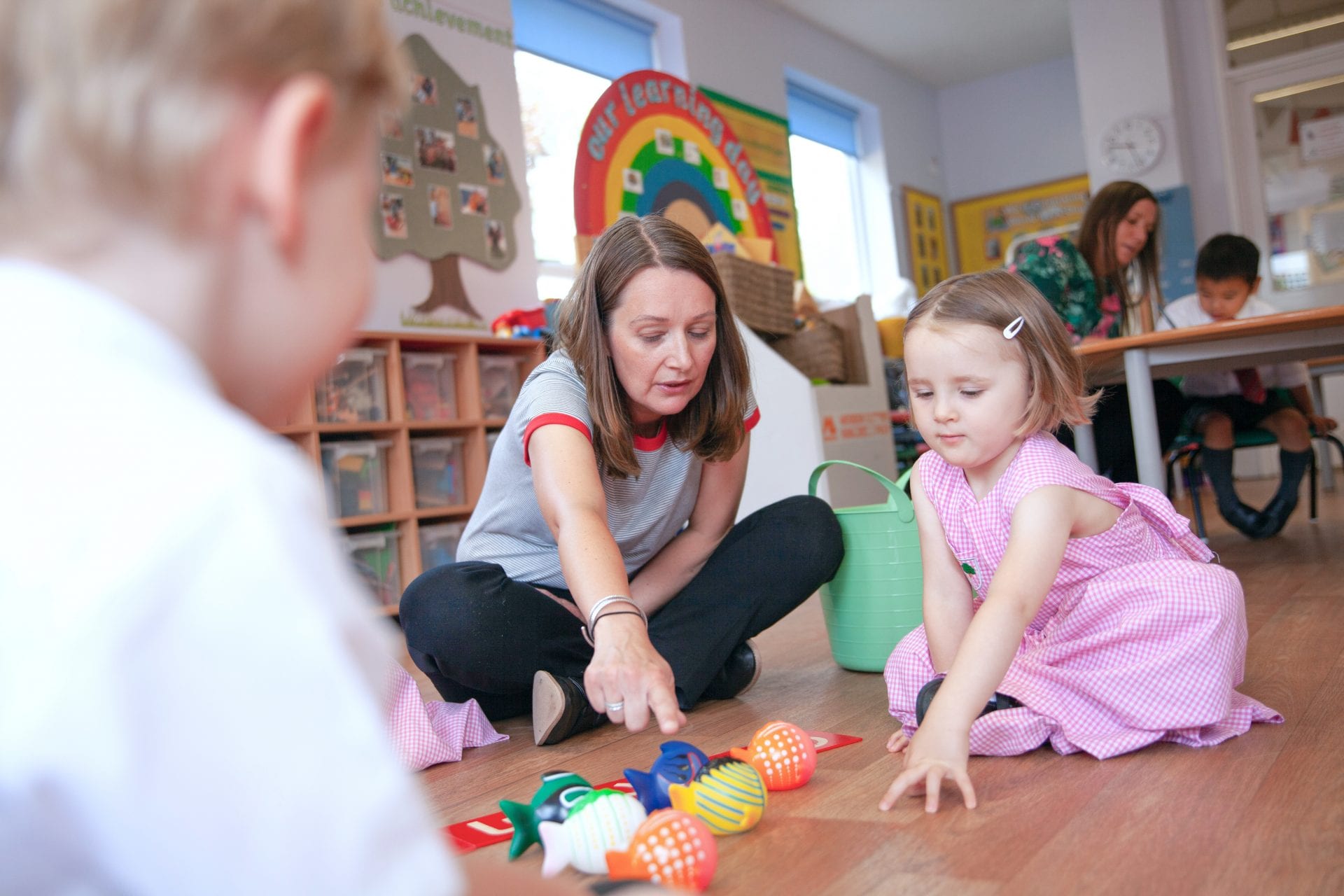 A warm and welcoming environment
The formative years of a child's education are full of excitement, exploration and discovery. Your child will begin to make friends, experience new opportunities and learn about a world beyond their home life.
We know and understand that this is a very important time for both you and your child. Our Nursery staff are highly experienced, supportive and caring and are dedicated helping your child grow in confidence and independence. Each child is given one-to-one teaching and our excellent pupil to staff ratios ensure each child will have activities suited to their unique needs.
Our approach to teaching leads to happy, confident children and academic excellence. The proportion of our pupils who achieve a good level of development by the end of the Early Years Foundation Stage (Nursery to Reception) is consistently well above the national average.
An Academic Headstart
Pupils enter our half day Nursery I in the school year in which they are 2½ years old, according to their age and places available. They proceed into Nursery II in the following September, which is full time and follow through to Reception. The majority of our pupils continue their learning throughout the lower school and upper school completing a sound and secure learning journey through to Form VI.
Our children follow a specifically-tailored and richly diverse Early Years curriculum, flavoured with the many positive influences and ideals of Montessori teaching with the aim to develop sensory skills and dexterity as well as a firm concrete knowledge of number and language. Our Nursery classes are led by fully qualified teachers and all children are given one to one help every day to become confident readers and quickly gain mathematical skills using the Montessori thousands, hundreds, tens and units equipment. Using the "sandpaper letter" system enables very young children to develop advanced reading and writing skills. Your child's pre-school experience is further enriched by specialist teaching from an early age in Music, PE, Dance and Movement and ICT.
Gradually, each child builds up a strong sense of independence coupled with an ability to sustain concentration and develop their own thinking. Confidence grows as their range of skills increases, along with a true passion for learning and discovery.
We provide:
Outstanding pastoral care – a caring and supportive environment where every child can flourish
Individual learning programmes for every child to suit their personal development
A range of learning programmes in phonics and mathematics incorporating the Montessori approach
Specialist teaching, developing confidence in Music, PE, Dance and Movement and ICT enriching your child's pre-school experience.
Yoga lessons and daily 'mindful' moments
An outdoor learning curriculum
Regular reporting of your child's progress and activity via their home contact book and Tapestry, the online learning journal, in addition to regular school reports and parent-teacher meetings.
Regular parental engagement activities to involve you in your child's education such as Stay and Play sessions, Sports Day, Christmas Nativity, Father's and Mother's Day sessions
A smooth transition into our Reception class, ensuring a confident start to formal school life.
Message from the Early Years Leader
I would like to welcome all parents, children, families and friends to our Oxford House School website. Nursery years are such a special and important time in your child's life and we hope to create some very special memories during the time your child spends with us.
We believe the success to your child's education is very much a partnership between home and school. Children come to nursery with such a wealth of experience and knowledge and it is our aim to build on this together, with parents, to ensure that every child really does get the best start to their education.
All children are given one to one help every day to become confident readers and quickly gain mathematical skills using the approach.
Oxford House provides a happy, safe and secure environment for your sons and daughters to learn and we are confident Oxford House will provide a secure foundation for their growing success.
Visitors are always welcome and we like you to see us just the way we are. It is only by visiting the Nursery and seeing everyone working together that the real atmosphere can be experienced. Please contact the school to arrange a visit at a time that is convenient for you.
The Nursery Staff and I look forward to welcoming you soon.
Mrs Kelly Shine, Early Years Leader