The Vet comes to Oxford House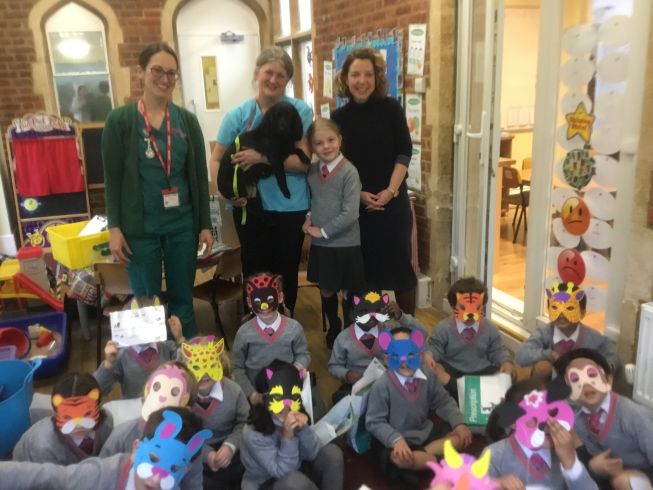 This term our Reception class have been learning about amazing animals and this week, they received two very special visitors into their classroom! A vet called Ms James (Mae's mummy from Form II) and her veterinary nurse assistant, Lyndsey.
Ms James and Lyndsey showed the children similarities and differences between the pets.  They learnt about Button the dog and looked closely at her different features like her strong canine teeth.  They stroked Freddie the chicken and looked closely at his claws and colouring.  They also held and fed Bruce the Guinea pig and learnt what food he should eat to stay healthy.
The children also had an opportunity to look into a microscope at the type of bugs pets might carry if we don't look after them well.  We saw a magnified flea and it looked very different than what we thought it would!
We then selected and placed pictures of parts of a dog's anatomy onto a cardboard cut out.  It was tricky but we listened to each others ideas and prior knowledge.
Their visit helped us to support our learning in class.  We were then able to share our knowledge of what we've learnt with Ms James and Lyndsey and asked questions using how and why. The children were very excited and thoroughly enjoyed the afternoon. A big thank you to Ms James and Lyndsey for taking the time to visit us.
Mrs Rahmani
Reception Class Teacher
Published on: 8th February 2018